Thank you for watching my session on Composing out of the Box. Below you will find your freebie, the giveaway form and links to other helpful resources! Enjoy! 
You may be interested to know that every month I release a new freebie exclusively for my newsletter subscribers. The style of freebies vary each time and are only available for that month only along with the previous month. In the past there have been games, worksheets, digital stickers, posters, coloring pages and more! Every month is a fun surprise! If you would like to have a musical surprise in your inbox, be sure to subscribe by filling out the form at the bottom of this page. 
EMOJI DICE FREEBIE



TOOLS AND RESOURCES
These are the spinners I mentioned that I love. If you purchase them, make sure you remember to take off the blue protective covering. It IS supposed to be clear. 
This is the MusiClock app that gets students improvising with ease! Highly recommend! (iOS only)
This is the Yamaha Visual Performer app that I showed as another example for students to improvise with. Unfortunately this one is no longer available in the App Store if you do not already own it. (Makes me really sad… contact Yamaha to let them know you want it back). However if you type in music visualizer, there are some other possibilities that pop up. Feel free to explore those!
In my presentation, I mentioned Jerald Simon's Book, 100 Left Hand Patterns Every Piano Player Should Know. If you click the graphic below, it will take you to my review. Otherwise, you can go straight to Amazon and find it! (Amazon Affiliate)
Pattern Play is a favorite to get students comfortable with improv which leads to composition. To get you started, here is the first book…
The Rhythm Randomizer is an easy site for some rhythm options for rhythm composition and melodic composition.
Looking for more music composition resources? Feel free to check out these below…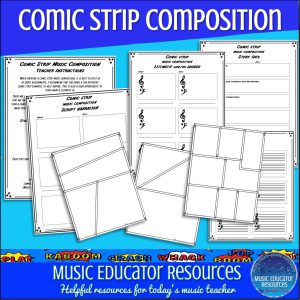 *If you are having any difficulties accessing the giveaway, try this link.
JOIN THE MUSIC EDUCATOR FACEBOOK COMMUNITY