If you haven't heard of a "Pop It," they are the latest fad right now and are everywhere! When they first came out I tried to resist going out and buying any. Why? Because I have really been trying not to get swept up in fads, only to have the item collect dust later. So, I decided if I can come up with at least 3 ideas on how to use them in lessons, if the fad dies, they can still serve a purpose. I came up with 7! Where there is a will, there is a way! ha ha!
Many of these ideas will work with good ol' bubble wrap too! (I mean, where do you think the Pop It got its inspiration?) If you have a Pop It, then you probably notice that one side has more "pop" to it than the other. I call this the "staccato" side versus the "legato" side. This could make a difference with certain activities, so keep that in mind that sometimes one side is better to use than the other. Take some time to experiment.
What musical things can we do with a pop it? 
*POP* Hand Shape
How well this works will totally depend on the shape of your Pop It. Usually it's best to have students place their fingers 2-5 on the pop it with the thumb resting off. But there may be some designs that will lend itself perfectly for the entire hand on the Pop It. After students have a nice hand shape they can then practice finger dexterity and technique…
*POP* Finger Dexterity
A Pop It is a perfect tool for students to practice their finger independence. Ask students to pop a certain finger number. Try popping on the staccato side and the legato side for a different touch.
*POP* Finger Technique
As mentioned above, one side is more of a staccato touch, while the other side is more legato. Practice the different touches.
*POP* Review Finger Numbers
Continuing the above, by reviewing finger numbers! Call out a finger number and have students POP with that finger. An easy game idea is to play Simon Says! ie: Simon says to pop finger # (fill in the blank). Afterwards, play the hands and fingers digital game for more finger review.
*POP* Practice Repetition
Whether practicing at home or going through a section of music during the lessons, use the Pop It to track repetition. If they get it correct, POP!
*POP* Game Tracking
Keep track of game progress by Popping! It can even work as a "bubble" game board! Too FUN!!
*POP* Play a Game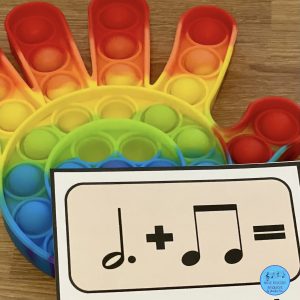 Turn the Pop It into a musical game! This works especially well for rhythm games. Here is an easy game idea…
Rhythm Pop– Show students a rhythm flashcard. Have students pop the value of the rhythm. (ie: Half note- pop 2!) Use the Musical Math Poke Cards for a musical math element, popping the total number of beats added up.
Shout out to Julie Duda who has created a game specifically for the Pop It if you want to check it out.
*POP* Pop with Music! 
As I was coming up with different ways I could use the Pop It with students, the thought came to me that I should compose some pieces where the Pop Its (or anything you can pop) become part of their music. I have had a blast writing these. The pieces, while not difficult on their own, does provide a little more of a challenge with the added element of the POPS! (Tip- the staccato side is recommended for a better popping experience)
So far, I have composed 7 pieces. You can use Pop Its, Bubble Wrap or even Balloons! They are all in the Elementary to Late Elementary range, however because the pops add that additional challenge, my early intermediate students have been enjoying them as well. Try "Popping Corn" for free here or here! Check them all out by clicking below.
Watch a few example clips of several of the pieces in this video below.
Watch Popping Corn here and don't forget to grab it for free here or here!
*POP* Free Activity Printable
And if you made it this far, how about grabbing a Pop with Music Activity printable you can give your students.
How about you? Do you use Pop Its in your studio? If so, how do you use them with your students? I would love to hear more ideas. Share in the comments below.
Where did you get your guitar and hand pop its I see? 
I get this question a lot! Here is the guitar and rainbow hand pop it that I got on Amazon. The other (solid color) hand I got at Five Below. (affiliate link) 
Pin for Later