I love using games as a way to reinforce concepts that students are learning. I want to make sure they are understanding what is being taught. The bonus in playing games is that it is an engaging platform that students love!
I recently added some digital music games in my store. While I am a huge fan of iPad apps, I knew that not all students have an iPad and sometimes students don't even have access to the internet. So when I put these games together, I wanted to provide a variety of platforms, both online and offline. This way you can choose the best platform for you and your students.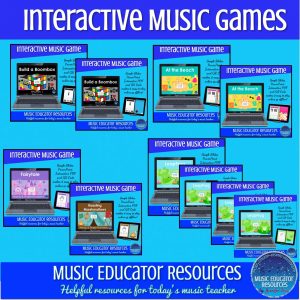 Digital Music Games
When possible, the digital music games will have include 3 different platforms plus an added bonus of the QR code. 
Google Slides- 
QR Code Option- Google Slides allows students to play online. If you want students to play at home, just send them the QR code (you can text or email, or upload the jpg to a studio/classroom platform such as Tonara or Google Classroom, etc). Once they scan the code the game opens right away and they start playing. 
If you are teaching online only, this will be your best option. Students can usually just scan the QR code in their camera app and play on any mobile device- iPad, Tablet, phone, etc. doesn't matter what kind it is. OR if you don't even want to use the QR code, you can just copy the url of the game after you open it and just send them that. 
Students then play the game on their side of the screen. (Which is why it works well for assignments too)  If you want to see their end of these screen, then have them screen share on their end to you (if using Zoom or a platform that has a screen share option). 
Copy/Paste URL Option- If you don't want to use the QR codes, you can simply just share the url link to your student instead. Go to the "Read First" file. Click on the game graphic. It will open the game. Now copy/paste the URL and send it to your student. If you are on Zoom (or other platform) simply send it inside the chat. Or if you are assigning the game to be played later, you can email, or text the url or if you use Tonara like me, add it to their assignment. They will then click on the link and play! It's that easy! 
Screen Sharing Tips (Zoom)-
For students to share their screen so you can see, you will need to make sure your permissions allow it. Double check by clicking on the screen share, click on advanced settings and make sure it's set so participants can screen share. After clicking the game url, students on a computer simply click screen share and choose the website/game option to share their screen. If they are on a mobile device, they will 

choose share "website url" and then copy paste that link in and click share. The game will then open up and can now play so you will be able to see. 
*Remember- links, files, etc. are only shareable to your own students. These are inidividual teacher game licenses.
PowerPoint or PDF–
This is a good option if students are on the computer or mobile device (iPad, Tablet) in your studio/classroom. This is a good option if you don't have internet access or you don't want to worry about the internet at all. 
Having trouble opening zip files?
If you are on a Windows machine, the file may be "blocked". "To open such files or extract contents of such blocked zipped files, right-click on the file and open Properties. You may see a message – This file came from another computer and might be blocked to help protect this computer. Click on the Unblock button and then on Apply/OK." If that doesn't work then try unzipping it's for free at http://unzip-online.com/ 
Digital Music Games Video Tutorial
In the following video, I take you on a tutorial on how to use each platform with your students so you can choose the best way for your circumstance. I hope you find it helpful. 
Did you know that some of my PDF resources include an option to turn it into a digital activity via TpT? Yep! You can find out all the details about Easel by TpT here. Easel is a TpT feature so if you do have any problems at all, please contact the technical team at TpT directly. In addition, this will not work with all files (including zip). So how do you know if a resource you purchased includes this option? Log into TpT, go to that resource and then if you see this …. 
… then you are good to go! Yay! This is just another option to use what normally might be a printable, and make it more interactive by sending it as a digital assignment. Here is a short video tutorial so you can see what this is all about.
Please note: TpT Digital Activity is now called Easel. Easel has more features now. You can check out all the details here.
For step by step directions, I would refer you to these slides, created by Anne Gardner's Reading Resources. 
Adapting Non-Digital Resources
If you are not using Google Classroom, or a particular resource isn't an option for this, then I highly recommend watching this video for other ideas…