This was my first time attending the NCKP conference. I was so excited because I have heard over and over again how it is the best conference to go to if you teach piano. It was also my first time in Chicago and was pleasantly surprised that it wasn't very humid. The weather was absolutely beautiful the entire time we were there.
I roomed with my friend, Lynnette Barney. This was our 9th or 10th conference rooming together and we always have so much fun.
My favorite part of these conferences are seeing teachers that I have known online! I am going to do a completely separate post outside the sessions so stay tuned!
I wanted to take some time to share some highlights from each session I was able to go to. There were many times I found myself struggling to choose which one to attend.
Keynote Address by Barbara Kreader on The Music of Teaching
Barbara Kreader kickoff off the conference on the subject, The Music of Teaching. She is the author of a new book, The Music of Teaching: Learning to Trust Students' Natural Development. I bought it at the conference and can't wait to start reading it.
Barbara shared that every child has something to teach us about his/her journey. She shared some of her personal experiences and stories but what I got most from her keynote was that we are often the learners when we teach. The students who struggle or the most difficult are often the ones who actually teach us the most.
This is where perception comes in. Without our students, we wouldn't have it. It is important to respect every child's natural development. Children often know how to solve the problem if we just listen. Oh, how I love that! Too often are we quick to solve problems. Instead, take a moment, ask questions and listen.
Integrating Technology in the Piano Studio for Children's with Special Needs by Kaitlin Cooper
Kaitlin began her presentation explaining why technology is a good tool to use with students with special needs. Aside from the typical reasons you may think, something that she suggested was to simply search for apps to expose us to new ideas. You can search apps for different teaching ideas or ways you can use other apps.
When implementing technology in your studio, it is important to have a clear purpose ahead of time versus having a student play a game simply because it might be fun. I can relate to this as this was one of my big primary purposes for creating music lab task cards. I wanted to make sure there was a clear purpose to students lab time each week.
One little tip that she shared was to make sure the iPad is at the piano and point out to the student that the piano keyboard they might see in the app app is the same thing as the piano keyboard they are playing. What may be obvious to us, may not be as simple to notice to a student. Another tip she gave was that students will special needs may have a harder time transitioning away from the iPad. So try to choose apps ahead of time and decide which are most appropriate for a particular student.
Scott Price who has a lot of experience working with students with special needs was in the audience and shared this, "Instead of saying hands together, say same time. It is very important to watch your vocabulary."
Preventing and Managing Challenging Behaviors in the Piano Studio by Michelle Bastien
One of my favorite sessions at NCKP was this session on managing challenging behaviors. Every once in a while I will have a student who I have to be a little more patient with. After a while, that patience can really wear me down. And because I enjoy having fun in lessons and tend to be a little more laid back, I think students can get a little too comfortable with me and confuse that comfort with inappropriate behavior. So I was looking forward in learning some tips from Michelle.
Michelle begins by sharing that the most important thing you can do is build a relationship. She asks a couple really important questions such as, How have you arranged your environment for the student? Do you have supports in place before there is a problem? Why is the student doing it? (Attention, demands?)
Michelle reminds us that we need to know our students so we can be more proactive in eliminating triggers and know what some motivating factors are for them. If there is a problem in the environment, simply remove the problem. (ie: something in your studio that might be distraction may require you to remove that distraction before that particular student arrives)
Another tip that I thought was a great reminder was to pre-teach your expectations. Go through the rules at the beginning so it is clear.
Visuals also help students remember what those expectations are. Positive reinforcement help as well. She reminded us that we are motivating people. We work for a paycheck. Some kids have intrinsic motivation but not all do so there is nothing wrong with some incentive reinforcement.
This presentation was JAM PACKED with information, tips and such. I think I might ask Michelle to do a guest post later this year because she has so much experience and valuable things to share. But I will leave you with a couple more things.
Stay positive 
4:1 ratio- 4 positives for every 1 re-direction.
Anxiety feeds anxiety (don't feed off each other. If you stay calm, they will see what their behavior should be)
We only know the context that is right in front of us but we need to avoid assuming we know what the problem is. Watch for the physical and verbal cues. They may be showing you one thing on the outside but something completely different is going on in the inside. Remember that.
A resource you MUST check out is Pbisworld.com. It will give a list of behaviors and describe them and include strategies how to help them. HUGE!
Where the Roadmap Ends: How (and When) To Leave Method Books Behind (Panel)
Because this was a panel, I am going to share the questions given by moderator, Jason Sifford and the various answers. I abbreviated the answers by the teachers' initials. (A- Arlene Steffen; G- Gail Lew; I- Immanuela Gruenberg; J- Jason Sifford)
What are the skills students need before they move out of the method?
A- technical skills- coordination between hands, comfortable with keyboard range. Problem-solving skills. Will need to ask themselves questions and prepare before mistakes happen. Learning how to make decisions. Out of 5-finger position. Improvising
I- Note reading on the grand staff, understanding basic rhythms, technical skills, understanding theoretical concepts. Comfortable playing on black keys
G- technical skills
Transfer student or a student who methods are just not working. How do you fill in gaps or set them on a successful path?
I- Interview first to see where gaps are. Build repertoire based on what they need. Keep in mind the need for them to feel comfortable with the pieces you are giving them.
A- Method becoming stale might not be the problem. The challenge might be the problem. The students have been expected to know the notes but not know the music. Engaging students in the music making process is crucial. Ask for their input. What would it sound like if… The pieces could be easier, but make the challenge bigger to fill in the gaps.
G- Introducing supplemental material early on is really crucial. Will help challenge students more and address the musicality that might be missing.
How did you gain creativity skills?
A- Parents never wanted to hear me practice, just play. Arlene would practice on her own and thus would be creative on her own.
G- Had an adult student who had all these pieces that meant something to her. She would tell her the name of the tune. Gail had to write an arrangement that she could play. (That's how she got started)
J- I "steal" from other people. I watch everyone else.
I- Has students transposing Hanon in every key.
What is your favorite piece to use with students leaving a method or a transfer?
J- Both Ways- Alexander Tansman Likes to assign it regardess of level. Hand coordination, navigate black keys, theory- 2nd half is the 1st almost exactly. If they can reason/figure out this piece on their own they understand and recognize patterns well.
A- Little Kabelevsky's Scherzo  Can teach by rote. "Jazz piece" Can check Rhythm, articulation.
G- Kabelevsky Op. 39 collection is great. The Clown's is a favorite. What key is it really in? Dexterity…
I- Gillock, Easy Beethoven, Mozart, Bartok, Schumann…
How do you manage the repertoire approach?
A- Listed concepts and matched them up with repertoire. Lending library
G- Exam program dictates the repertoire. Spends time sight-reading new music all the time.
I- Over time student has covered a variety of musical styles, challenges, technical issues
Audience questions-
Observation from an audience member– supplement, supplement, supplement often
A- Method is a tool, you are teaching "students name" not "Music Tree"
Observation from an audience member- Method is a skeleton that allows for creativity to build on.
What do you use to get the skills to get to the more advanced pieces?
J- At some point the student has to take over and just get it done. (Donald Warlock?) Or do I need to change what I'm giving them?
A- Jump around a bit. Planning needs to be done in advance.
Why Mnemonics and Sight Reading Don't Mix by Samantha Coates
This was my all time favorite session at the conference. Samantha was so engaging the entire time. The funny (or not so funny) thing is there were some terrible technical glitches that were going on right before she started so the PowerPoint wasn't working. But the PowerPoint was imperative to her session. So while she was waiting for that to get resolved, she kept us entertained and engaged like a champ! I was in awe!
I actually heard about Samantha and her presentation before this conference and it was after I watched this video (below) that I knew that it was a must go to session.
Even though I like to teach intervallic reading it was very interesting to experience first-hand in this session how mnemonics actually slow down the music reading process. So much so that when you have a child that walks in your door and shares with you how they learned Every Good Boy Does Fine from school or from their Mom or Dad, that you share this video series with Samantha Coates or have them try doing what she does. It was very eye opening.
Samanta asks how do we read books? We pick it up and start reading, read another and another. Same thing with music.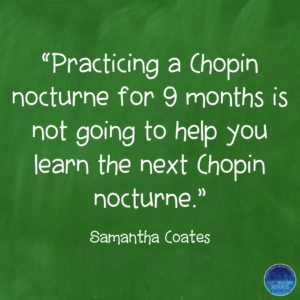 In order to sight read successfully we need to know what we are looking at on the page.  There are 5 essential elements…
Rhythm is the essence of music. We can strip out pitch and it will still be recognizable. You cannot to it the other way.
Pitch helps us understand the topography of the piano. Students shoudl be asked to play the note, not name the note. Unless it's translated into musical sound, it has no meaning.
In the video she changes the notes to be called H I J K L M N (instead of A-G). When she had us figure out the mnemonics it was MUCH harder. It slows reading down. She explained that we only need 1 fixed point of reference.
Patterns far outweigh in importance. We have to understand step, skip, repeated.
Chords and chord inversions should be instantly recognized.
Melodies/Pieces help us recognize everything.
Be sure to 'Like' Music Educator Resources on Facebook and follow Music Educator Resources on TpT to stay up to date on giveaways, discounts, reviews and other music resources! And don't forget to join the exclusive email newsletter for monthly freebies, feature fridays and more!