One of the freebies I shared with my newsletter subscribers for January was New Years SMART goals. SMART goals are based on the acronym, SMART.
Specific
Measurable
Attainable
Realistic
Timely
Every year, I have my students create new musical goals that would like to accomplish in the New Year. It's a great time to evaluate how our last semester went and where they want to go from here.
This year, I decided I wanted my students to be more specific with their New Year Goals. So I decided to create a SMART goal worksheet they can work from. The great thing about these goals is they can't help but be specific when using this format.
Specific- Students write down a specific goal they want to work on or improve this year.
Measurable– This is a progress indicator. How will progress be tracked?
Attainable– How are they going to get there? Is it

realistic

? (For example a beginner student may have the goal to learn how to play Fur Elise, but we want something more attainable for 2016, so they may want choose a piece more in their level but gives them a little challenge)
Relevant– Is this relevant to their musical goals overall? Is it going to help them achieve other similar goals?
Timely– This is the place where I want them to put a deadline when they can accomplished this goal by.
I have been VERY pleased with what I have gotten back from students so far. I thought I would share a couple examples…
With the first one below, this particular student has recently joined a rock band with a group of friends. Their band has been playing more and more. It's been a great experience. She is the keyboard player. She has noticed since performing with the band, how important memorization is. Each band member is required to memorize their set. The more they have memorized the longer sets they can perform. So she has made it her goal to memorize more this year.
This student has made it a goal to practice daily. She has good answers to each SMART acronym to help her achieve her goal!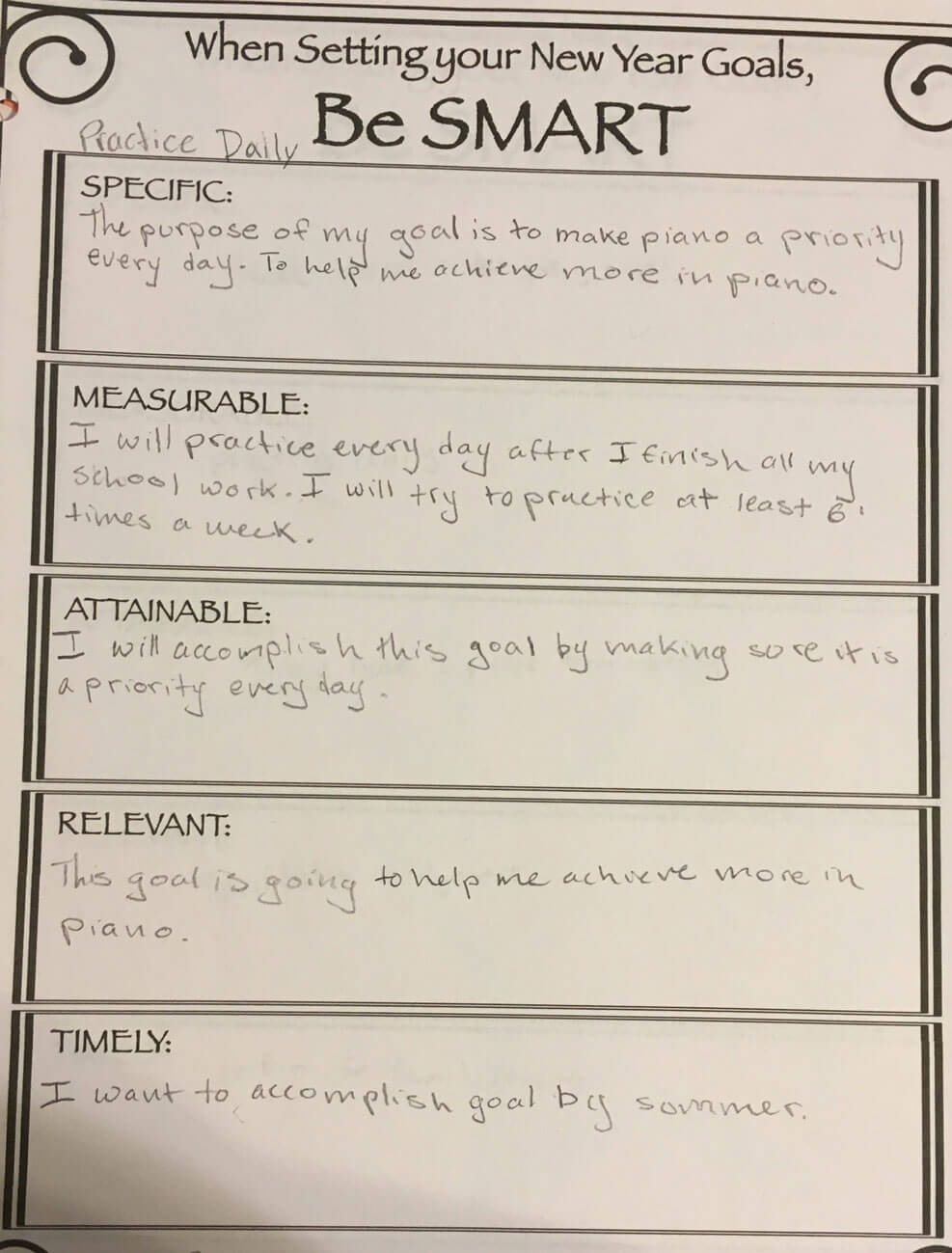 Once students complete their worksheets I put them at the very front of their binder so it's there at the forefront and can be revisited often to see how they are coming along in their goal.
Now for some of my younger students, the SMART goal worksheet might be a little too much for them right now, so I use a different worksheet for them. I created the New Year Goals and Reflections worksheet last year. They can reflect on their accomplishments from last year and choose a new goal for this year. Here is an example…
I want to make sure everyone can take advantage of these resources! You can download both of these FREE worksheets below.
If you like these worksheets, I would love to hear it by leaving a comment on TpT after you download. Happy New Year!
---
Make More, Teach Less;
A Comprehensive Guide to Running a Music Camp or Workshop!
If you ever thought about holding a music camp or workshop but didn't feel quite ready, you are going to LOVE this course that I am working diligently on! This will be a VERY detailed course jam-packed of helpful information and advice. When you finish, you will be more than ready to start your own music camps and workshops!
If you are not already subscribed to the newsletter, be sure to subscribe here so you can be the first to know when it is released! There will be a special deal during its new release period!