I teach on my Yamaha Disclavier in my living room. Adjacent to it is my piano lab room. This is the room that I get to have FUN with! So this weekend I wanted to organize and update the look of the room. I was running out of room for all my piano games and manipulatives so I got rid of my cubbies that I didn't use at all last year and replaced them with two 9-drawer units from IKEA. (Amazon has these too, but they were asking twice the amount! So I opted to get them straight from IKEA)
When I opened the package I was a little worried because nothing was labeled. I had two of these to put together so I knew it was going to be an all day project. My husband owns a videography business on the side and June is his busy month. He had a video shoot that afternoon and was busy editing for the morning. So I was on my own, or so I thought…
When it comes to projects like these, my husband just can't help but sit back. He came in for a minute, watched for a few and then started to help! What a man! I was so grateful let me tell ya! So he was able to help me with the outsides before he had to take off for his shoot.
Then the rest (the drawers) were all mine…
A couple years ago my husband did custom bookshelves for me. So here it all is with the shelves and drawers…
This room has wood floors and there were areas that the wood was starting to chip. If you walk in barefoot chances are, you may walk out with a sliver. I have been wanting to get a music themed rug for this room for awhile because of that, but rugs are not cheap! Then I saw a picture of a piano rug from piano teacher, Stephen Hughes and asked where he got his. Walmart was the answer if you could believe that! And it was in the price range I could afford. So I ordered the large one and here it is! I love it, it's soft, just the right size and looks great. If you are thinking of ordering it, just know that the white is more of a creme. That didn't bother me for my purposes.
So now we turn to the other side of my piano lab room and you will see my Yamaha keyboard and Disclavier and the iMacs. But if you look in the middle, the whiteboard is what I am excited about because this is brand new! I bought it at our state's music teachers conference and can't wait to put it to good use. I will be reviewing the whiteboard tomorrow so stay tuned on that…
Now a little more on my IKEA drawer units. I saw a few that could work, but fell in love with the Alex 9-drawer unit. I figured these would give me what I wanted most out of them.
Here are the bottom four drawers which are deeper. The 3 bottom drawers on the left are my "piano craft" drawers. The drawers on the right are game and manipulative drawers.
Then the top 5 drawers are not as deep, but perfect for the flashcard and flat games. The top left drawer is where I put all my game markers, dice and magnets, etc.
Here is a better example of the bigger drawer. This one has my Whirligig games in it.
Then the smaller drawer sample has mostly TCW games with a few others inside.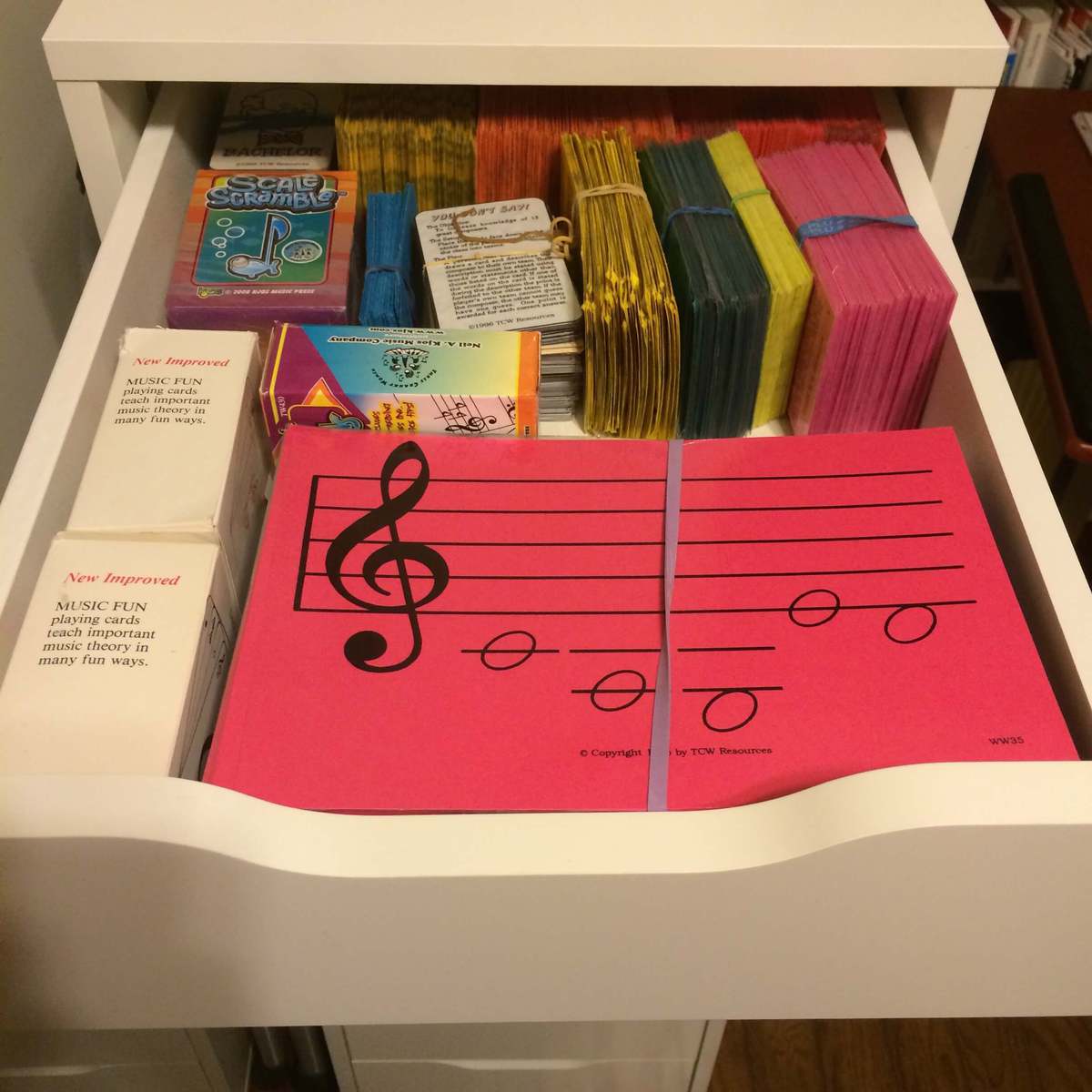 I can't wait until my students see the updated look! It's always fun to update and organize! I feel so accomplished!